US Africa Command (AFRICOM) announced it launched an airstrike in Somalia against al-Shabaab on Wednesday, the second known US airstrike in the country this month.
In a press release on Thursday, AFRICOM claimed the strike killed five al-Shabaab fighters and said it "assessed" no civilians were killed due to the remote location of the strike. But the Pentagon is notorious for undercounting civilian casualties in Somalia, and there's never any confirmation of AFRICOM's claims when it comes to its operations in the country.
AFRICOM said the strike was carried out near Bacadweyne, a Somali town about 285 miles northeast of the capital Mogadishu. The command said the strike was launched at the request of the US-backed Mogadishu-based government, which has been engaged in heavy fighting against al-Shabaab since launching an offensive last year.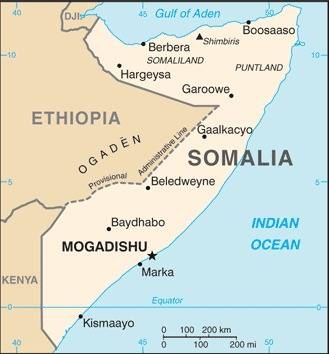 US airstrikes have increased in Somalia since President Biden ordered the deployment of up to 500 troops to the country last May. In 2022, there were 15 airstrikes reported by AFRICOM, up from 11 in 2021.
The airstrikes initially dropped when President Biden first came into office as the Trump administration launched a record number of bombings in the country. AFRICOM launched 45 airstrikes in 2020 and 59 in 2019, a record high for US operations in Somalia.
President Trump did order the withdrawal of most of the 750 troops from Somalia in the final months of his administration, although most were redeployed elsewhere in east Africa, and the airstrikes continued up until the day before Biden was sworn in.
Christopher Miller, who served as the acting defense secretary in the final days of the Trump administration, told Task & Purpose that the US presence in Somalia was way too large by the time Trump ordered the withdrawal.
Miller believes Biden's decision to redeploy troops to the country was related to the Afghanistan withdrawal. "After its debacle in Afghanistan, I would strongly suspect the [Biden] administration decided that they needed to show strength regarding counterterrorism someplace else," he said.
The US military portrays al-Shabaab as a major threat due to its size and affiliation with al-Qaeda, but it's widely believed the group is not a global threat. Al-Shabaab was born out of a US-backed Ethiopian invasion of Somalia that was launched in 2006, and the group didn't declare loyalty to al-Qaeda until 2012, after years of fighting the US and its proxies.