US Africa Command (AFRICOM) said in a press release that it conducted an airstrike in Somalia on December 23 against al-Shabaab, marking the third known US strike in the country this month.
AFRICOM said the strike was launched in support of the Mogadishu-based government and that it hit a target about 150 miles northeast of the Somali capital near the coastal town of Cadale.
The command claimed that its "initial assessment" found six al-Shabaab fighters were killed and no civilians were harmed. But the Pentagon is known for undercounting civilian casualties in Somalia, and there is little accountability as there is virtually no media coverage of the US war against al-Shabaab.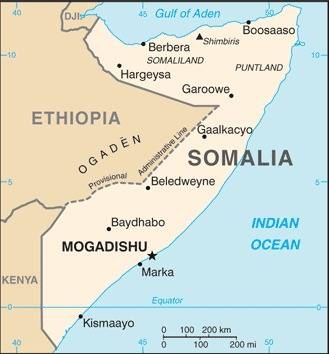 The US-backed government in Somalia also has strict rules for media. Somali journalists say the government has enacted a new rule that requires them to submit content for approval, and four journalists have been detained for their coverage of an al-Shabaab attack.
The Somali government of President Hassan Sheikh Mohamud launched a major offensive against al-Shabaab a few months ago and has enlisted the help of local militias. The Somali journalists who were arrested covered an al-Shabaab attack on rural villages that followed a militia withdrawal from the area due to payment issues.
The Somali government has also been looking for more US support, and the US has escalated airstrikes in the country since President Biden ordered the deployment of up to 500 troops to Somalia in May. AFRICOM's last known airstrikes in the country took place on December 17 and December 14.
Besides the air campaign, the US is also stepping up its training of Somali forces. BBC reported in November that the Danab Brigade, a commando force trained by the US, is set to grow from 1,500 fighters to more than 3,000 in the coming months as the US is increasing its funding and military support.