NATO on Thursday formally labeled the leaks in the Nord Stream pipelines as "sabotage" and warned that attacks on an ally's "critical infrastructure" could be met with a response, although the pipelines are owned mainly by Russia.
"All currently available information indicates that this is the result of deliberate, reckless, and irresponsible acts of sabotage," NATO's North Atlantic Council said in a press release. "Any deliberate attack against Allies' critical infrastructure would be met with a united and determined response."
Russia's state gas company Gazprom is the sole owner of Nord Stream 2 and is the majority shareholder in Nord Stream 1. Both pipelines connect Russia to Germany, but Nord Stream 2 has never delivered gas to Europe as the project was paused by Berlin around the time Russia invaded Ukraine.
Russian President Vladimir Putin on Thursday labeled the incident as sabotage in a phone call with Turkish President Recep Tayyip Erdogan. The Kremlin said that Putin "gave a principled assessment of the unprecedented sabotage, which is in fact an act of international terrorism against the main gas pipelines Nord Stream 1 and Nord Stream 2."
An unprecedented amount of Russian gas has poured into the Baltic Sea, which experts say resulted in what could amount to the largest-ever single release of methane gas. Gas is still leaking as Danish authorities said both pipelines should be empty by Sunday.
While Russia has little motive to attack its own pipeline, Western officials and media outlets are insinuating that Moscow could be responsible. But Russia has questions for the US after Radek Sikorski, a former Polish Foreign Minister and current Member of European Parliament, thanked the US for attacking the pipelines on Twitter.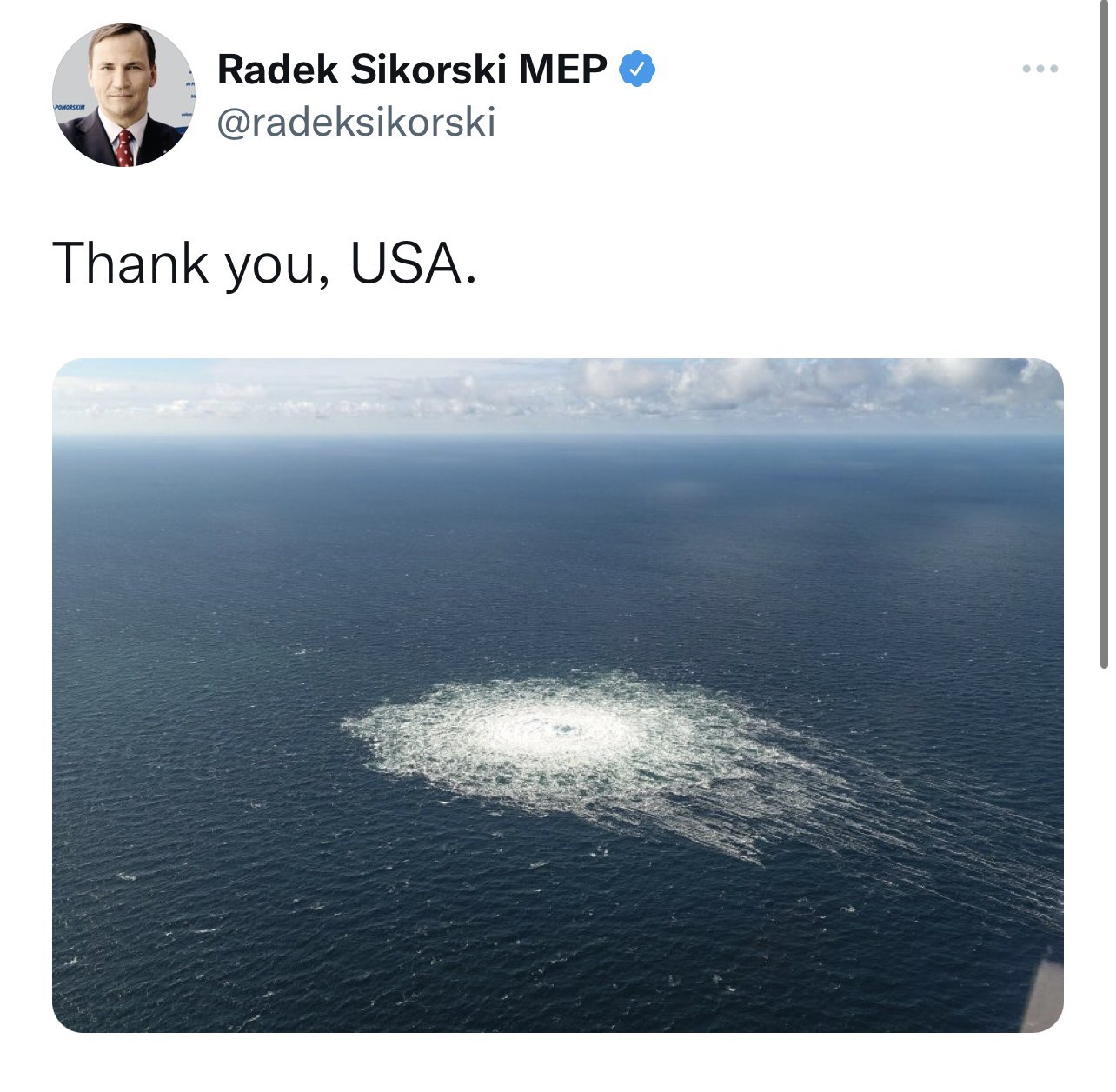 Sikorski has since deleted the tweet, but Russia is expected to bring up his comments during a UN Security Council meeting on the issue on Friday. Moscow also has questions about previous threats against Nord Stream 2 from President Biden.
Before Russia invaded Ukraine on February 24, President Biden said the US would "bring an end" to the Nord Stream 2 pipeline. When asked how that would be possible since Germany is involved in the project, Biden said, "I promise you, we will be able to do that."
Over the years, the US worked hard to oppose Nord Stream 2 by imposing sanctions but failed to stop its construction. It was always possible that the pipeline could have been brought online if relations between Europe and Russia were repaired, but now Nord Stream AG is saying that it's impossible to know if either pipeline can be repaired.