Ukrainian authorities said they arrested Viktor Medvedchuk, the former leader of Ukraine's largest opposition party, who was put on house arrest last year over allegations of treason. Medvedchuk left his home shortly after Russia invaded, and Ukraine's Security Service (SBU) chief Ivan Bakanov said he was captured in a "lightning-fast and dangerous multi-level special operation to detain."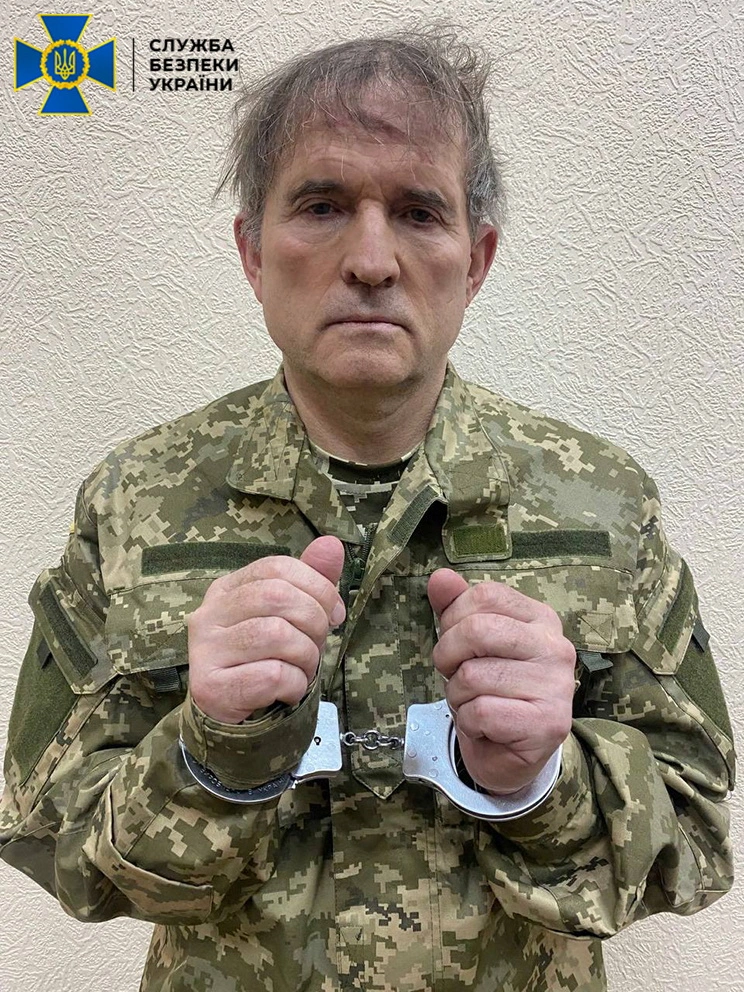 Ukrainian President Volodymyr Zelensky posted a photo online of Medvedchuk in handcuffs wearing a Ukrainian military uniform. "A special operation was carried out by the Security Service of Ukraine. Well done!" Zelensky wrote on Telegram.
Medvedchuk has ties to Russian President Vladimir Putin and has long called for a diplomatic solution to the war in Ukraine's eastern Donbas region. His party, Opposition Platform – For Life, was banned last month by Zelensky over allegations of having "links" to Russia. At the time, the party held 44 seats in Ukraine's parliament.
After Medvedchuk escaped house arrest, Opposition Platform – For Life removed him from party leadership. The party also condemned Russia's invasion, but it wasn't enough for Zelensky. In total, the Ukrainian leader banned 11 political parties. According to Al Jazeera, three of the parties participated in the parliamentary elections in 2019 and combined received about 2.7 million votes, or 18.3%.
After Medvedchuk's arrest, Ukraine's SBU issued a warning to other "pro-Russia" figures. "Pro-Russian traitors and agents of the Russian secret services, remember – your crimes have no statute of limitations. And hiding places, wherever we find you!" the SBU wrote on Twitter.
Early Wednesday morning, Zelensky proposed giving Medvedchuk to Russia in exchange for Ukrainian prisoners of war. He said it was "important for our security forces and military forces to consider such a possibility."