Azerbaijan and Armenian forces accused each other of launching attacks in and around Nagorno-Karabakh on Monday, violations of a short-lived ceasefire that was brokered by Russia and took effect Saturday.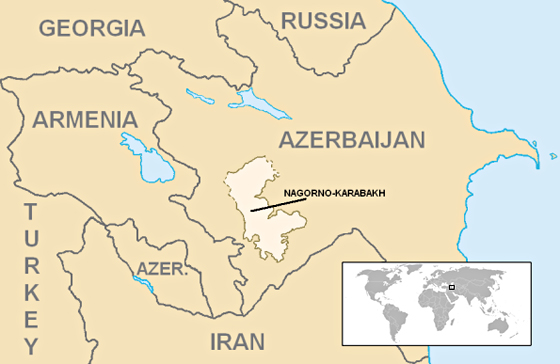 Russia urged both sides to respect the ceasefire that was agreed to in Moscow. The pause in fighting was meant for humanitarian purposes, to exchange prisoners and the bodies of those killed in the conflict.
The ceasefire fell apart on Sunday, and Azerbaijan said it shelled an Armenian regiment after an attack on Ganja, a city deep inside Azerbaijan's territory. Armenia denied attacking Ganja.
Accusations continued on Monday. Baku accused Armenian forces of launching attacks inside Nagorno-Karabakh and shelling areas inside Azerbaijan. Nagorno-Karabakh said Azerbaijan directed a "large number of forces" to Hudrut, a town in the south of the enclave, and reported "large-scale hostilities."
Nagorno-Karabakh said on Monday that 45 more of its servicemen were killed, bringing its total military deaths to 525 since the clashes broke out on September 27th. Azerbaijan has not disclosed the number of military casualties it has suffered but has reported 41 Azeri civilians killed. Nagorno-Karabakh said at least 31 civilians had been killed in the enclave.
Nagorno-Karabakh is an ethnically Armenian enclave within the internationally recognized borders of Azerbaijan. The border dispute turned deadly after the collapse of the Soviet Union, and from 1988 to 1994, the region saw heavy fighting that killed tens of thousands until a ceasefire was declared. While there have been flare-ups, the latest clashes are the fiercest the enclave has seen since 1994.
Azerbaijan receives support from Turkey, who has been accused of driving the conflict. Turkey reiterated its support for Baku on Monday and said it supports Azerbaijan's "campaign to take back its own lands."