Fighting continued between Armenia and Azerbaijan in the disputed enclave of Nagorno-Karabakh on Thursday as representatives from the US, Russia, and France met to discuss the conflict. Over 400 people have been reported killed in the 12 days of fighting, including dozens of civilians on both sides.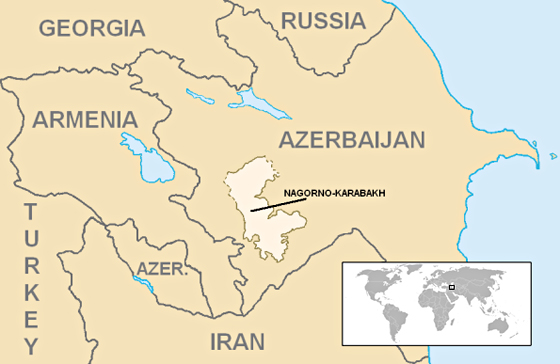 Azerbaijan's foreign minister was due to attend the talks in Geneva on Thursday. Armenian Foreign Minister Zohrab Mnatsakanyan is expected to hold separate talks in Moscow on Monday with officials from the US, Russia, and France. So far, no direct talks between Azerbaijan and Armenia have been scheduled.
Baku said the city of Ganja had come under fire on Thursday, which is deep inside Azerbaijan's territory. A cathedral in the town of Shusha in Nagorno-Karabakh was hit on Thursday, and several journalists were injured. Armenia said Azeri forces hit the cathedral, but Azerbaijan denied involvement.
Washington, Paris, and Moscow co-chair the Minsk Group, which was set up in 1992 by the Organization for Security and Cooperation in Europe to promote negotiations and peace talks over Nagorno-Karabakh. The three countries have called for a ceasefire since the fighting broke out on September 27th.
Russian Prime Minister Mikhail Mishustin spoke to his Azeri counterpart on the phone Thursday and called for "the swift stabilization of the situation … a halt to military action and the relaunch of the negotiation process."
Russia and Armenia are members of the Collective Security Treaty Organization (CSTO), a defense alliance made up of six post-Soviet states. The head of the CSTO, Stanislav Zas, said the alliance would come to the aid of Armenia if its sovereignty was threatened.
But Zas does not believe the fighting will spread that far. "I don't think Azerbaijan or Armenia need the conflict to flare up to regional level, nor is that in the interests of any other country," he said. Zas also expressed concern over reports of Turkey sending fighters from northern Syria to Nagorno-Karabakh to support Azerbaijan.
Nagorno-Karabakh is an ethnic Armenian enclave within the internationally recognized borders of Azerbaijan. The collapse of the Soviet Union turned the border dispute deadly, and tens of thousands were killed until a ceasefire was reached in 1994. Since then, Nagorno-Karabakh has operated as a de facto independent state with Armenian support.
The latest clashes are the heaviest fighting Nagorno-Karabakh has seen since the ceasefire was declared in 1994.