Reveling in the latest series of diplomatic expulsions of Russian officials across the West, British Prime Minister Theresa May continued to talk up the "threat" posed by Russia, while threatening yet more non-specific actions against them.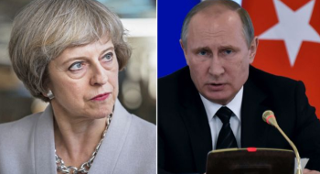 The expulsions against Russia are already the biggest ever, and come despite the OPCW testing of the putative chemical agent used in the Salisbury poisoning not scheduled to be completed for weeks. May, whose government has been blaming Russia for weeks, suggests that this is just the latest step in what she's calling "long-term measures" against Russia.
This sounds like it's going to be more than just diplomatic measures. May says that the action will require "soft" warfare, and involve the full range of capabilities of the British government engaging Russia and other enemies.
May suggested that police, security services, economic levers, cutting-edge military resources, wider diplomatic and cultural influence would all be brought to use on the world's stage, standing up for British interests against the Russians, Iranians, and other enemies.