While early in the Saudi invasion of Yemen, the US was more on the supply-side of famine, participating in the naval blockade, USAID chief Mark Green has announced another round of $130 million in US provided food aid is being set aside for Yemen, citing the mounting "humanitarian catastrophe."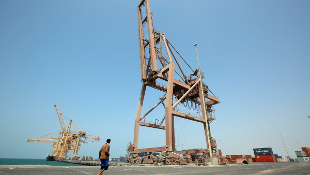 Whether the food will ever get there, however, is another matter. Green confirmed that there's been no sign of any easing of the Saudi-led blockade of Yemen, despite repeated US demands over the past week for the Saudis to allow aid in.
Indeed, not only have the Saudis not accepted the repeated US calls for aid to be allowed in, there's no sign that the Saudis have acknowledged the calls at all, seemingly ignoring the situation entirely as the civilian toll mounts.
The blockade has been a serious problem for northern Yemen, where a single port is expected to provide food, medicine, and fuel for some 15 million civilians, but which the Saudis have repeatedly blocked UN and other aid ships from entering.