According to The Associated Press, Defense Secretary Chuck Hagel said in House testimony on Thursday that he supports closing the detention facility at Guantanamo Bay, Cuba. But Hagel's actual words were too ambiguous for such a claim.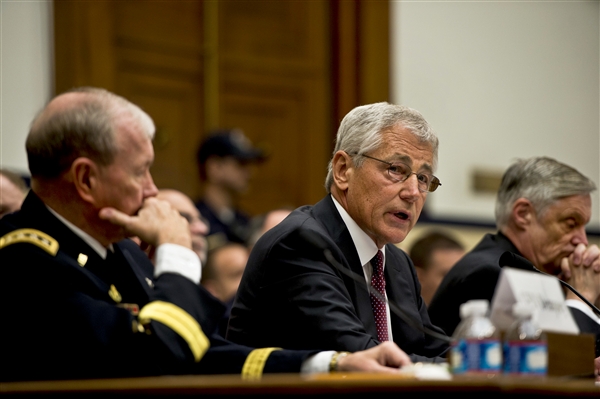 In a hearing for the House Armed Services Committee, Rep. Rick Larsen (D-WA) asked Hagel, "Are you in favor of closing Gitmo and do you believe that you have any authority to transfer any detainee for any reason, whether that's judicial, medical or military?"
"Well, I support the President's position on Gitmo," Hagel responded. "The reality is that we have responsibility for Gitmo now. There are 166 prisoners there now. Uh…That's where we are."
Hagel's response was more of a dodge than a firm affirmation of President Obama's initial position on closing Guantanamo when he came into office in 2009. But, of course, that is no longer the President's position.
In January, he Obama administration decided to close the office and eliminate the special envoy devoted to closing the prison, which holds 166 detainees, many of which have already been cleared for released, in indefinite detention.
That decision, reported The New York Times, "appeared to signal that the administration does not currently see the closing of the Guantánamo Bay prison as a realistic priority, despite repeated statements that it still intends to do so."
In truth, Obama abandoned the effort to close Guantanamo very early in his administration. In May 2009, Obama "scuppered a plan," writes Andy Worthington, "to bring a handful of innocent and wrongly detained prisoners to the United States who could not be safely repatriated."
"In January 2010," Worthington adds, "he imposed a ban on releasing any cleared Yemeni prisoners, after it was revealed that the failed underwear bomb plot of Christmas 2009 was hatched in Yemen, even though the deeply insulting rationale for the ban is that Yemenis, although cleared for release, can instead be imprisoned for life on the basis of 'guilt by nationality.'"
"The failure to close Guantánamo also involved Congress, where lawmakers passed legislation imposing severe restrictions on the administration's ability to release prisoners, and the courts — specifically the D.C. Circuit Court and the Supreme Court," according to Worthington.
President Obama has fundamentally signed on to the belief that individuals can be held without charge or trial. His acceptance of Guantanamo and his approval of indefinite detention provisions in US law are proof of that.
What exactly Hagel's position on is would require some specificity about whether he "supports the President's position" in 2009, or now. The Associated Press presumed the former.
Last 5 posts by John Glaser