President Obama appeared on Israel's Channel 2 TV and said Iran is about a year away from developing a nuclear weapon and that the US is keeping the military option on the table to stop it.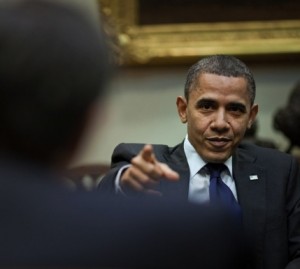 Obama is scheduled to visit Israel next week in his first as president. Despite what he said to an overly fearful Israeli public, his own intelligence officials maintain that Iran does not have a nuclear weapons program and has demonstrated no intention of developing them.
"Right now, we think it would take over a year or so for Iran to actually develop a nuclear weapon, but obviously we don't want to cut it too close," he said. "So when I'm consulting with Bibi (Israeli Prime Minister Benjamin Netanyahu) as I have over the last several years on this issue, my message to him will be the same as before: 'If we can resolve it diplomatically that is a more lasting solution. But if not I continue to keep all options on the table.'"
Just two days earlier, the highest level intelligence officials at the President's disposal, including Director of the CIA John Brennan and Director of National Intelligence James Clapper, said in Senate testimony that they "do not know if Iran will eventually decide to build nuclear weapons," but that the decision so far as not been made.
They also said it would be impossible for Iran to divert nuclear material from any of its enrichment facilities for the purposes of building a bomb without the US and international community finding out immediately.