In his first speech as Secretary of Defense, Chuck Hagel told an audience of US troops and defense officials at the Pentagon that the US should engage with the world instead of try to dictate to it.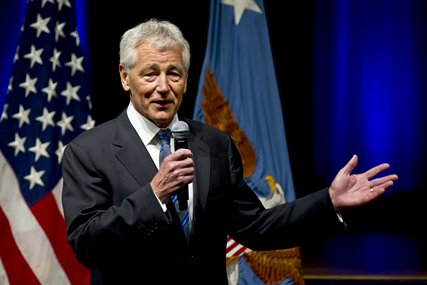 "We can't dictate to the world, but we must engage with the world," he said. "That engagement in the world should be done wisely. And the resources that we employ on behalf of our country and our allies should always be applied wisely."
Hagel was confirmed by the Senate on Tuesday in a 58-41 vote, which according to The Washington Post was "the narrowest approval ever for a defense secretary nominee."
Much of Hagel's speech seemed to indirectly rebut the Bush administration's strong-arm, with-us-or-against-us diplomatic approach, making clear also that he would not support wars he viewed as unnecessary.
"I'll never ask anyone to do anything I wouldn't do," he said, and he emphasized "renew[ing] old alliances" and "reach[ing] out" to "build new alliances."
Hagel also addressed impending defense budget cuts, notably leaving out the doomsday scenarios warned about by his predecessor, Leon Panetta.
Sequestration "is a reality," he said. "We need to figure this out."