The leading candidate being considered by President Obama to serve as the next Secretary of Defense, former Republican Senator Chuck Hagel, continues to face an onslaught of attacks to an extent that puts his confirmation, even his nomination, in serious doubt.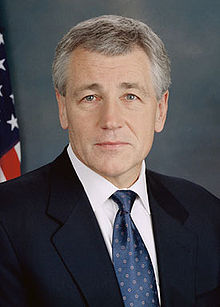 Hagel is an outsider when it comes to his own party in the realm of foreign policy. Hawks have harshly criticized him as unworthy of the position because of his record of opposition to interventionism, military quagmires, sanctions, and for not toeing the line demanded by the pro-Israel lobby.
New Hampshire Republican Senator Kelly Ayotte on Thursday said, "If he is nominated and comes before the Senate Armed Services Committee, I plan to vigorously question him on his prior statements, and [his positions on Israel and Iran], in particular."
A spokesman for Cuban-American Senator Marco Rubio suggested the he might put a hold on a Hagel nomination due to differences on Cuba policy. Hagel argues against the decades-old policy of sanctioning and isolating Cuba.
Adding to the onslaught of foreign policy criticisms, Hagel on Thursday faced new disapproval for comments he made 14-years ago that are perceived as being anti-gay.
During an interview in 1998, Hagel commented on the potential nomination of James C. Hormel, a San Francisco philanthropist chosen by President Bill Clinton to be ambassador to Luxembourg, saying Hormel was too openly gay to effectively represent America.
"They are representing America," Mr. Hagel said. "They are representing our lifestyle, our values, our standards. And I think it is an inhibiting factor to be gay — openly, aggressively gay like Mr. Hormel — to do an effective job."
Hagel was also a supporter of Don't Ask Don't Tell, which prohibited gays and lesbians from serving openly in the military.
Hagel has been brought through the gauntlet by his own party as they refuse to forgive him for having an independent mind that departs from their interventionist, hawkish, blindly pro-Israel doctrine. But most of the opposition has come from political hacks in the party and neo-conservative pundits.
Many notable people, on the other hand, have voiced support for Hagel. Robert Wright, of The Atlantic, rounds up some of these notables:
Already, Hagel has been defended by a strikingly diverse array of voices, including (in addition to people I mentioned in the piece) Dana Milbank of the Washington Post; John Judis of The New Republic; Andrew Sullivan of the Daily Beast; Scott McConnell and Daniel Larison of The American Conservative; the progressive pro-Israel group J Street; the Center for American Progress blog ThinkProgress; Stephen Walt of Foreign Policy and Harvard; Steve Clemons of The Atlantic and the New America Foundation; Jim Fallows of The Atlantic; Emily Hauser of Open Zion; Marsha B. Cohen and Jim Lobe at Lobeblog; Nicholas Kristof of The New York Times; Clyde Prestowitz, formerly US Trade Representative in a Republican administration, in Foreign Policy; Robert Merry at The National Interest; former U.S. Ambassador to Israel Daniel Kurtzer; and former U.S. Middle East negotiator Aaron David Miller.
In addition, former National Security Adviser Brent Scowcroft and former Deputy Secretary of State Richard Armitage have advocated on behalf on Hagel, as well as a group of nine American ambassadors, including five former ambassadors to Israel.
Zbigniew Brzezinski, national security adviser under President Jimmy Carter, said President Obama was partly to blame for allowing all of this hysterical criticism of Hagel to grow without comment.
"I find that, unfortunately, a symptom of being not willing to stand up for people you want to surround yourself with," Mr. Brzezinski said in an interview. "That's not a good way to protect presidential territory…I would say: Make an announcement that Kerry and [Hagel] are the team that he wants, and let's see where the chips fall."