Former GOP senator Chuck Hagel is rumored to be a leading candidate to be nominated as Secretary of Defense by the Obama administration, and his voting record is eliciting outrage on the right for being insufficiently hawkish on terrorism and insufficiently pro-Israel.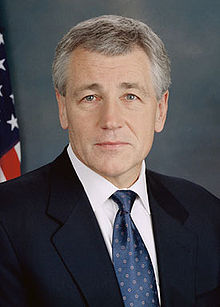 Despite initially voting for the authorization for the use of force against Iraq, Hagel became an outspoken critic of the Bush administration's invasion and occupation.
According to Foreign Policy magazine, he also seems to oppose the Obama administration's military expansionism in Asia-Pacific, "wary of any strategy that smacks of 'economic, political, and military containment' of China: 'this kind of belligerence would be a disaster for our two nations and for the world…. such a policy would fail,'" he has written.
The pro-Israel lobby in Washington is very unhappy about Hagel's impending nomination. "Send us Hagel and we will make sure every American knows he is an anti-Semite," a senior Republican Senate aide told the Weekly Standard. The aide explains that "Hagel has made clear he believes in the existence of a nefarious Jewish lobby that secretly controls U.S. foreign policy. This is the worst kind of anti-Semitism there is."
In an interview for Aaron David Miller's 2008 book The Too Much Promised Land, Hagel said: "The political reality is that … the Jewish lobby intimidates a lot of people up here," in a rather bland comment acknowledged by everyone but which borders on profanity in Washington.
Some have tried to capitalize on this comment, denoting Hagel's use of the term "Jewish lobby" instead of  "Israel lobby." But Miller, speaking to the Daily Beast's Ali Gharib, defended Hagel and his comment, insisting those seizing upon the less politically correct formulation were simply out to smear him.
"That's reckless commentary," The Atlantic's Editor and friend of Hagel's Steve Clemons told Gharib. "This is typical, that people get out and slander someone."
Daniel Kurtzer, US ambassador to Israel under President George W. Bush, also defended Hagel on this score. "I found him in all the years I served, including as ambassador to Israel, to be a supporter of Israel and a man also ready to discuss very frankly with the Israelis the concerns we had about certain
Israeli policies," he told Politico.
And when questioned on his Israel record, Hagel said: "Let me clear something up here if there's any doubt in your mind. I'm a United States Senator. I'm not an Israeli senator. I'm a United States Senator. I support Israel. But my first interest is, I take an oath of office to the constitution of the United States. Not to a president, not to a party, not to Israel."
In October 2000, Hagel was one of only four Senators who refused to sign a letter expressing support for Israel during the second Palestinian intifada.
And in a July 2002 Washington Post op-ed, Hagel wrote that Palestinians could not be expected to make democratic reforms as long as "Israeli military occupation and settlement activity" continue, and that "Israel must take steps to show its commitment to peace."
In 2006, Hagel demanded President Bush call for an immediate ceasefire in Israel's attacks in Lebanon, insisting "This madness must stop," and accusing Israel of "the systematic destruction of an American friend  – the country and people of Lebanon."
On issues of terrorism, Hagel is similarly reasonable – although in Washington his views are derided as extreme.
In August 2006, for example, Hagel, along with 12 other senators, refused to sign a letter asking the EU to declare Hezbollah a terrorist organization. And in 2009, Hagel signed onto a letter urging President Obama to open direct negotiations with Hamas.
On Iran, too, Hagel seems to part with the hysterical belligerence of the crowd in Washington. In 2007, Hagel urged President Bush to engage in "direct, unconditional" talks with Iran, and gave a speech claiming that that "Continued hostile relations between the United States and Iran will have the effect of isolating the United States."
"Hagel even flirts with the idea that an Iranian bomb wouldn't be the end of the world," according to Foreign Policy magazine. And he would be exactly right about that.
Hagel's reappearance on the national stage is brand new and the Obama administration has not confirmed one way or the other whether they are actually considering him for Secretary of Defense. But if what the war hawks and Israel-firsters are complaining about his record accurately portrays his foreign policy views, he would be a welcome change to the one of the top positions in the country, even if it is unlikely that he would challenge the President's most egregious foreign policy misdeeds.