UN chief Ban Ki-moon on Monday met with Israel's Prime Minister Benjamin Netanyahu and Palestinian president Mahmud Abbas as part of a diplomatic push to establish a ceasefire.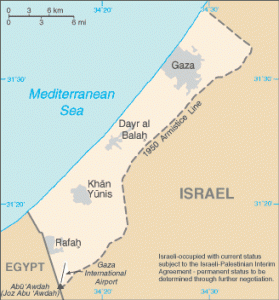 "The secretary general wishes to add his diplomatic weight to these efforts, which are considerable and extremely important," UN spokesman Martin Nesirky told reporters from Cairo.
"This violence, this bloodshed, is not doing anything to bring about greater security for Palestinians or for Israelis and it makes it even harder for there to be negotiations through the Middle East peace process," said Nesirky.
President Obama spoke with Egyptian President Mohammad Morsi as well on Monday, as the Egyptian government took the lead in working with Hamas and Israel to hammer out a ceasefire.
Senior Israeli ministers had agreed by Monday night to discuss a ceasefire agreement with Hamas, according to the Israeli newspaper Haaretz.
Still, Israeli troops remained amassed along the Gaza border, prepared to invade on orders from Tel Aviv. Israeli airstrikes continue to hit Gaza – more than 105 Palestinians have been killed and over 700 injured.
Gaza militants continue to try to hit Israel although the sophisticated Iron Dome missile defense system is blocking most of the rockets. Three Israelis have been killed since the start of the conflict a week ago.
Hamas has been demanding as terms for a ceasefire that Israeli attacks cease and the economic blockade on Gaza be lifted.
"We don't accept Israeli conditions because it is the aggressor," Hamas leader Khaled Mashaal told reporters in Egypt. "We want a cease-fire along with meeting our demands."