The Israeli government's Nature and Parks Authority has embarked on a plan, entitled "They See Not, Nor Know 2012," to demolish Palestinian structures in East Jerusalem under the guise of establishing a national park.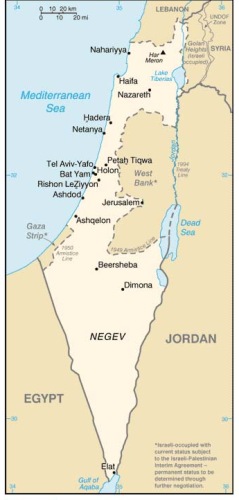 More than anything else, the name of the plan drew attention. The phrase "They See Not, Nor Know" appears twice in the Bible and "it is used to denounce pagans and people who did not recognize the God of Israel," reports Haaretz.
But many see it as coyly targeting Palestinians and note that the name is only one part of a larger story of Israel setting up parks on top of Arab-owned land and structures in East Jerusalem.
"The name means only one thing," said Jerusalem city council member Meir Margalit (Meretz), "which is that the Palestinians won't know where it's coming from or how it hit them. There's no other way to read it and it's impossible to whitewash it with polite words.
"This is not by chance and it reflects the mentality of these people. This is additional evidence that we are talking about a body for which nature isn't the priority, but rather oppressing the Palestinians in East Jerusalem in every possible way," Margalit added.
Although the area in question has not yet officially been designated as a park, the Israel Nature and Parks Authority has already begun demolishing livestock pens, storehouses, and agricultural installations owned by Palestinian residents.
In addition to simply expanding illegal settlements in East Jerusalem, the Israeli government has ousting peaceful civil society institutions, apparently as part of a "Judiazation project in occupied Jerusalem," as Rashad Shtayyeh, the activities coordinator at the Civic Coalition to Defend Palestinians' Rights in Jerusalem told Electronic Intifada a year ago.
The Israeli Committee Against House Demolitions (ICAHD), submitted a report in September 2011 to three of the UN's Special Rapporteurs claiming that Israel's actions in East Jerusalem violate international law, may constitute a war crime, and asked for an investigation into these practices. It says Israel is "forcing the migration process on the basis of ethnicity – which violates international law, and is possibly a war crime."