Israel will withhold Palestinian tax revenues from the Palestinian Authority if President Mahmoud Abbas presses forward with a United Nations statehood bid, Finance Minister Yuval Steinitz warned on Saturday.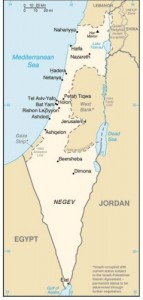 As the occupying power in Palestine, Israel has control of tax revenues of the Palestinian Authority, and as punishment for seeking peaceful independence from that occupation, Steinitz said Israel would not collect taxes on the PA's behalf, nor delivery any money to the PA, nor assist in economic matters.
Steinitz noted that the Palestinians backed down from a previous statehood bid at the UN last year right after Israel blocked the transfer of Palestinian tax funds to the PA.
Israel is desperate to block a peaceful, internationally observed Palestinian independence through the United Nations because it ruins Israeli plans to take over all of historic Palestine – the rest of the West Bank and Gaza.