Israeli Prime Minister Benjamin Netanyahu phoned President Obama on Thursday to congratulate him on his reelection following criticism that his flagrant preference for a Romney victory was inappropriate.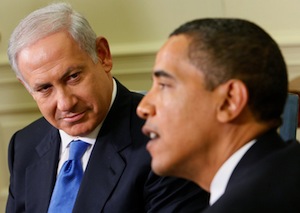 Netanyahu and his Likud Party hadnot-so-privately yearned for Obama to get voted out by Republican contender Mitt Romney, in what opposition leader Shaul Mofaz described as "a rude, blunt, unprecedented, wanton and dangerous intervention in the United States election."
"Netanyahu bet on the wrong president and got us into hot water with Obama," declared the opposition Kadima Party in a statement.
Netanyahu's office said he had called Obama and told him his reeleciton "was a vote of confidence in your leadership."
 Netanyahu said he "looked forward to continuing to work with the president to address the great challenges facing the United States and Israel and to advance peace and security in our region," according to a statement.
In a speech earlier in the day, Netanyahu responded to critics complaining of Bibi's pro-Romney stance, saying they "were trying to cause conflict between us and the United States."
"They won't get away with it," he said, in remarks that appeared to be aimed mostly at Ehud Olmert, the former prime minister who is considering challenging Netanyahu in the upcoming election.
"The alliance with the United States is firm," Netanyahu said.