A judge in Britain's High Court is considering a request for a court inquiry into the possible involvement of the UK's spy agencies in the CIA's drone war in Pakistan.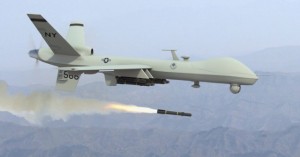 Noor Khan, a 27-year-old whose father was killed by a drone strike in northwest Pakistan in March 2011, has asked Britain's High Court to examine whether UK intelligence officials were in any way involved in the CIA drone strike.
Khan's father, Malik Daud Khan, was attending a meeting of local elders in North Waziristan last year when a missile fired from an unmanned drone struck the site, killing around 40 people.
"[Kahn] is calling for the veil of secrecy around Britain's drones policy to be lifted so that he can keep his community safe. We share his concerns about the lack of accountability, and the morality of the U.K. being dragged into an illegal attack on a country with whom we are not at war," said Kat Craig, legal director of the Reprieve charity, which is representing Khan.