A US drone fired two missiles at near Pakistan's border with Afghanistan on Wednesday, killing at least one person and possibly three, although officials said "It was not clear whether the three dead were men or women or whether they had any link to militancy," according to the Associated Press.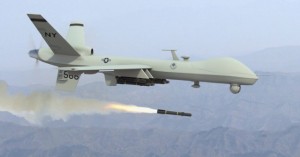 The attack occurred in the North Waziristan tribal area. Pakistani intelligence officials provided the AP with conflicting accounts of how many were killed, though, and could not confirm that those killed had any connection to militancy at all.
The intelligence officials also confirmed that a cow and a buffalo were killed in the drone strikes.
The Obama administration has waged the drone war in Pakistan for nearly four years now, and while certain officials have spoken publicly about it, the program is kept technically so that the administration can escape any legal scrutiny or avoid being forced to release information to the public.
The Pakistani government has persistently denounced the unilateral bombing of their country by the US, saying its a violation of the law and of their sovereignty.
A few thousand people have been killed in the drone war, only 2 percent of which, according to a recent academic study, were named as high-value militants.
"Drones hover twenty-four hours a day over communities in northwest Pakistan, striking homes, vehicles, and public spaces without warning," the study by researchers at the Stanford and NYU schools of law found. "Their presence terrorizes men, women, and children, giving rise to anxiety and psychological trauma among civilian communities. Those living under drones have to face the constant worry that a deadly strike may be fired at any moment, and the knowledge that they are powerless to protect themselves. These fears have affected behavior."