Yemeni President Abd-Rabbu Mansour Hadi is supported by Washington with money and weapons, in part because he allows the US to bomb his country with drones, but Hadi may be losing domestic political support for his accommodative policies towards US aggression.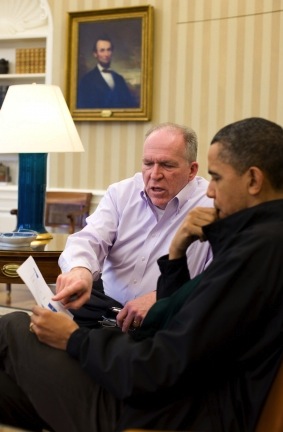 With public anger rising over the drone war, Yemeni politicians are sharply criticizing Hadi and US drone strikes.
"At first people didn't talk, but after Radaa, things have changed, said parliamentarian Ali Abd-Rabbu al-Qadi, referring to a drone strike last month that killed 12 civilians. "These air strikes prepare the ground for al Qaeda and terrorism."
The expanding drone war in Yemen, which often kills civilians, does in fact cause blowback and help al-Qaeda recruitment – as attested to by numerous Yemen experts,investigative reporting on the ground, polling, testimony from Yemen activists, and the actual fact that recent bungled terrorist attacks aimed at the US have cited such drone attacks as motivating factors.
"We are just farmers, in our homes, who are disturbed constantly in the middle of the night by American planes above," Jamal Abdu al-Sabouri, a relative of one of the Radaa victims, told Reuters. "We want a solution and we demand that Hadi pay attention to this issue… We want security and stability but if they're going to disturb us, we'll disturb everyone too."
These accounts are compatible with other commentary from Yemeni locals experiencing stress from the undeclared, secret, and lawless drone war.
"People are afraid to go to weddings because, whenever large groups of men gather, they are afraid a drone will hit them," a sheikh from Bayhan district in Shabwa told The Economist.
After another September drone strike that killed 13 civilians, a local Yemeni activist told CNN, "I would not be surprised if a hundred tribesmen joined the lines of al Qaeda as a result of the latest drone mistake. This part of Yemen takes revenge very seriously."
Many in the US intelligence community also believe the drone war is contributing to the al-Qaeda presence in Yemen. Robert Grenier, who headed the CIA's counter-terrorism center and was previously a CIA station chief in Pakistan, told The Guardian in June that he is "very concerned about the creation of a larger terrorist safe haven in Yemen."
""We have gone a long way down the road of creating a situation where we are creating more enemies than we are removing from the battlefield," he said regarding drones in Yemen.
And now that the political opposition in Yemen is growing more outspoken towards US policy and Hadi's welcoming of frequent bombings, the drone war also holds the potential to destabilize an already unstable government and create more chaos in a country already suffering from poverty and lack of security.