Israeli Prime Minister Benjamin Netanyahu has called for early elections instead of waiting for the scheduled ones in October 2013, raising new questions about his stranglehold on Israeli policy on Iran, and beyond.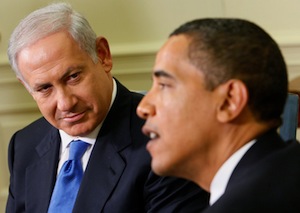 Netanyahu and his Likud Party, according to the latest polls, are expected to get re-elected in the early elections, which will probably occur in February. The decision for early elections was obviously a political one, quickened by his cabinet's inability to pass a 2013 budget in a weakening economy.
But the early elections have implications for Israeli policy towards Iran, and for Washington's response in the foreseeable future.
If Netanyahu is re-elected, writes Raphael Ahren in the Times of Israel, "he can proceed with whatever plans he has regarding a preemptive strike on the Islamic Republic's nuclear facilities. Indeed, buoyed by an election victory and with the US elections well behind him, Netanyahu would have a much freer hand to act in the Iranian arena than he would have had this fall."
Mitt Romney, the Republican nominee vying to replace President Obama, has experienced a jump in the polls following a swift debate performance last week. If wins the November elections, it could give Netanyahu the free hand he has been badgering the Obama administration for to launch a preventive strike on Iran.
Netanyahu also probably expects the early elections to get him off the hook regarding negotiations with the Palestinians. Again, if Obama loses, he won't be able to spend his last months in office on the Israeli-Palestinian issue, as most presidents do in their final months.
If "Israel is in the middle of an extremely brief election campaign this winter," Ahren writes, "no US president will seriously expect Netanyahu to try to sit down with Abbas to rekindle a deadlocked peace process, especially not one that has been lying barren for most of the four years Netanyahu has been in office."
The Obama administration resisted pressure from Bibi on attacking Iran preventively, and many were prepared to expect Obama might pressure Bibi on the ongoing ethnic cleansing of Palestine, at least on the margins, in his second term. But Netanyahu's call for early elections, and his lead in the polls, does not bode well for either the Iran issue, or the Palestinian issue.