Egypt said Saturday that its military offensive in the Sinai Peninsula is coordinated with Israel and doesn't violate the two nations' peace treaty.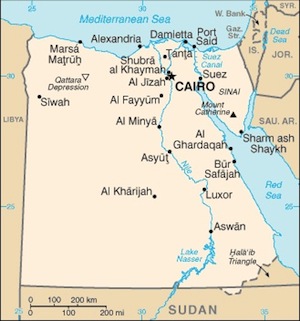 Early last month the Egyptian government cracked down with heavy military reinforcements in the Sinai following a coordinated attack by militants who struck a military checkpoint and then tried to enter southern Israel. Since then, according to the Egyptian military, troops have killed 32 "criminals" and arrested 38.
The Sinai is supposed to be demilitarized according to the 1979 peace treaty with Israel and has not seen this much violence since the 1973 Arab-Israeli war. Since the operations are aimed at militants and are done in cooperation with Israel, Egyptian officials say, the treaty is not being violated.
Israel and Egyptian are two of the top recipients of US military and financial aid, so the offensive greatly matters to Americans. Egyptian troops have not just targeted known militants though. In fact, they've even destroyed more than 30 smuggling tunnels on the border with the Gaza Strip, despite the fact that those tunnels often aid Gaza's economy, which is suffering from a draconian Israeli blockade.
US-Israeli influence on the new and evolving Egyptian state is evident in all of this. Last month, Egypt was hyping the offensive in part because it was "crucial to maintaining good relations with Israel," Reuters reported at the time.