After being briefed by top US military officials, the two top Israeli leaders that have been pushing for war on Iran suggested Obama's hardline postures and militarism in the Middle East may have eliminated the need for a preemptive Israeli strike on Iran.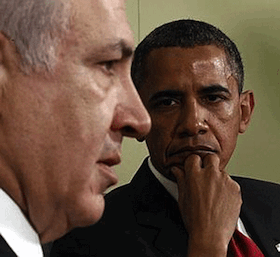 Secretary of Defense Leon Panetta and National Security Advisor Tom Donilon met with both Israeli Prime Minister Benjamin Netanyahu and Defense Minister Ehud Barak to talk about confronting Iran. Following that on Thursday, they both met with Admiral James Winnefeld, Vice Chairman of the Joint Chiefs of Staff.
Citing sources "very close" to Netanyahu, Israeli news said there will be no attempt to attack Iran preemptively provided that Obama sets out his "red lines" and comes through on certain other promises he's made to Israel.
One television news report quoted senior Netanyahu officials saying an Israeli attack on Iran is becoming "less and less likely."
Israeli Defense Minister Ehud Barak suggested that the Obama administration's unprecedented concentrations of US forces in the Persian Gulf may eliminate the need for an Israeli strike on Iran.
"Israel retains its right to make sovereign decisions and the United States respects that," Barak said. "However, one should not ignore the impressive preparations by the Americans to counter Iran on all fronts."
"As opposed to the Bush administration, the Obama administration is indeed carrying out steps in the gulf, transferring forces and preparing bases," another top Israeli official said. "There is an unprecedented US deployment opposite Iran."
Israel has been trying to pressure the US into backing a military strike on Iran, for a military program it doesn't even have. But in recent days the fever pitch for war has decidedly lessened following two notable events.
The first was statements made by America's top military official last week, Gen. Martin Dempsey. He reiterated that the US would not be "complicit" in an Israeli strike, which he also explained would be counterproductive.
The other incident occurred early this week when Israeli press reports came out saying the Obama administration sent a surreptitious message to Iran promising not to back an Israeli strike, as long as Tehran refrains from attacking American interests in the Persian Gulf.
The change of tone seems to have come right when Netanyahu's cabinet finally realized the US definitely would not back their plan for attack. That they are now dialing back the rhetoric about bombing Iran 'before it's too late' only proves how manufactured the threat they so urgently warned about really was.
While the prospect of an imminent Israeli strike may have been averted, problems on the Iran issue persist. A mix of grand strategy implementations and placating trumped up threats from Israel has prompted the Obama administration to beef up US military presence in the Persian Gulf, militarily surrounding Iran in a virtual garrison. A harsh set of economic sanctions is also crippling the Iranian economy and putting tens of thousands of lives at risk. These aggressive, unjustified policies do not portend future peace.