Iran would strike US military bases in the Middle East in response to any Israeli strike on its nuclear facilities, the leader of Iranian-backed Lebanese group Hezbollah said on Monday.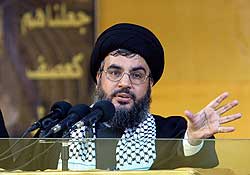 "A decision has been taken to respond and the response will be very great," Hassan Nasrallah said in an interview. "The response will not be just inside the Israeli entity – American bases in the whole region could be Iranian targets," he said. "If Israel targets Iran, America bears responsibility."
The statement came on the same day an Israeli newspaper reported that the Obama administration sent a secret message to Iran via European allies confirming that the US will not back an Israeli strike against Iran so long as Tehran refrains from attacking American interests in the Persian Gulf.
Iran has conventional capabilities that would allow it to target thousands of US troops in the region, in neighboring Afghanistan, in the southern Gulf island Bahrain, and elsewhere. Even with Obama's alleged deal, this deterrent threat is something Iran will stick to in order to discourage an attack for a nuclear weapons program it doesn't even have.
A declassified war simulation run by the Pentagon earlier this year forecasted such a "strike would lead to a wider regional war, which could draw in the United States" and would immediately get at least 200 Americans killed in Iran's retaliation, not to mention heavy Iranian and Israeli casualties.
Nasrallah also said that Hezbollah would attack Israel in retaliation of any preemptive strike on Iran. Even Hezbollah has no chemical weapons, he added, they do have an arsenal that could strike Israel's nuclear reactors.
The costs of an unprovoked Israeli strike on Iran would be immense for everybody in the region. The fact that it would entirely be a war of choice, not of necessity, is making Israel's constant warmongering – and the Obama administrations aggressive economic and diplomatic postures – all the more dangerous.