The Egyptian government seems to be cracking down on its Sinai Peninsula for the god graces of the Israeli government, following militant attacks on Sunday.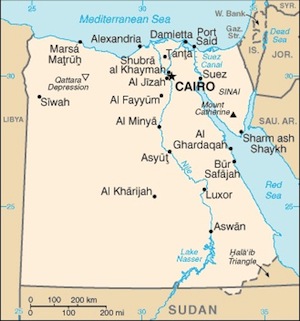 After 16 Egyptian soldiers were killed by Islamist militants coming from the Sinai who then tried to penetrate Israeli territory on Sunday, Egypt's leadership fired the region's governor and the country's intelligence chief. On Wednesday, the military launched airstrikes in the area.
But Egypt apparently got permission from the Israeli security cabinet on Thursday to conduct further helicopter airstrikes and send in further armored vehicles. According to the Camp David Accords, there are limits on the type of weaponry in the Sinai.
More than that, as Egypt poured more troops into North Sinai on Thursday, residents have told news media there has been little fighting since the initial airstrikes on Wednesday. Egypt's army claimed up to 20 "terrorists" were killed, but witnesses told Reuters "they had seen no sign of fighting." One witness said he saw troops firing in the air.
"We thought they were chasing someone, but their arms were directed up and we didn't see who they were fighting with," the witness, who declined to be named, said. "We couldn't find any bodies or signs of battle after they left."
"The offensive is crucial to maintaining good relations with Israel," Reuters reported, which may explain Egypt's apparent efforts to hype the offensive.