Turkey's president said Saturday that his country would do "whatever is necessary" in response to Syria's shooting down of a Turkish military jet, adding to concerns about a an internationalization of the conflict in Syria.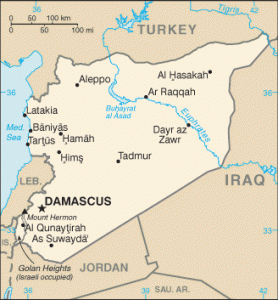 "It is not possible to cover over a thing like this," said President Abdullah Gul of Turkey. "Whatever is necessary will no doubt be done."
In statements on Friday, Syria said that its military forces had shot down a Turkish jet that had entered its airspace. Turkey says the jet's presence over Syrian territory was intended to be brief and not meant as a hostile act.
Syrian officials tried to ease the tension. "We have no hostile intentions against Turkey," said Jihad Makdessi, a spokesman for the Syrian Foreign Ministry.
The Syrian and Turkish relationship went sour toward the beginning of the internal conflict in Syria after refugees swarmed over the  border into Turkey. Since then, the Turkish government has been giving safe haven and weaponry to members of the rebel Free Syrian Army, who make cross-border attacks in Syria.
Iraq's foreign minister, Hoshiyar Zebari, said on Saturday that the downing of the plane and Turkey's vow to respond indicate a dramatic escalation of the conflict, which will get much worse if there is too much "spillover" into neighboring countries.
"Our main concern is the spillover of the crisis into neighbouring countries," Zebari said. "No country is immune from this spillover because of the composition of the societies, the extensions, the connections, the sectarian, ethnic dimensions," he said.
The controversy also sheds light on how disastrous an international (and especially Western) military intervention against the Assad regime would be. Assad's anti-aircraft capabilities have the capacity to shoot down planes overhead, and the sectarian divisions of Syria and the surrounding countries would exacerbate the bloodshed if the conflict is not contained.