A series of bombings across 10 locations in Iraq has killed up to 83 people and wounded about 300, in a grim reminder of the sectarianism and violence left behind by the U.S. war.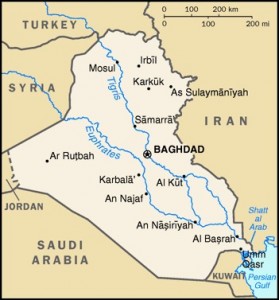 Suicide bombs went off in restaurants and car bombs exploded in Hilla and Baghdad, where many Shia pilgrims have been gathering for a religious festival marking the the anniversary of the death of Shia imam Moussa al-Kadhim. Some of the attacks also hit places known to be frequented by Iraqi police.
Three more bombs exploded in Kirkuk, with one of them targeting the headquarters of Kurdish President Massoud Barzani. It is not known at this time who is responsible for the wave of attacks.
Wednesday was one of the most violent days in Iraq since U.S. troops departed the country in December. While overall violence is down since then, sectarian strife between Sunnis, Shiites, and Kurds has intensified.
Prime Minister Nouri al-Maliki has tried to purge the government of his political rivals – mainly Sunnis – and consolidate power in a drive to dictatorship, all with U.S. support. He has detained his political opponents, tortured hundreds, cracked down on press freedoms, etc.
The Obama administration has kept largely quiet about Maliki's behavior, aside from about $2 billion in annual aid and tens of billions in military assistance to support this drive to authoritarianism. While this keeps the halls of power in Washington and the oil corporations happy, even the best case scenarios are damning for Iraqi citizens as well as the geopolitics of the region.
The enduring effects of the illegal U.S. war in Iraq are still causing havoc and bloodshed throughout the country. Iraq is neither secure, nor is it a democracy as was promised by warmongers in Washington.