The relationship between the U.S. and Pakistan has been problematic for years, but lately it has taken on new attributes that liken the two to enemies instead of reluctant partners.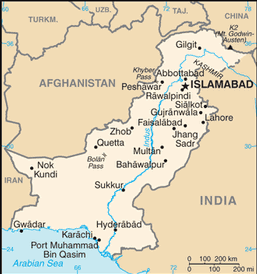 The U.S. drone strikes, the espionage and infiltration, the killing of 24 Pakistani soldiers in a botched airstrike in November have all contributed to a growing wrangle between Washington and Islamabad. But the Obama administration's recent overtures to Pakistan's arch enemy, India, seem to have made things even worse.
Secretary of Defense Leon Panetta went to India recently to speak about improving relations with the Asian country and reportedly made condescending remarks about keeping Islamabad in the dark about U.S. actions, like the raid on Osama bin Laden's home, for example.
Just days after Panetta's India trip, UN human rights chief Navi Pillay met with Pakistani Prime Minister Yousaf Raza Gilani who claimed that the U.S. drone war violates human rights and Pakistani sovereignty. Pillay then immediately called for a UN investigation into civilian casualties in the U.S. drone war, something the Obama administration has tried very hard to avoid by lying about the true nature of the program and keeping it secret and run by the CIA, as opposed  to by the military where it might have to be held accountable.
The latest arguments in recent days are focusing on accusations from Panetta and others in Washington that Pakistan provides safe haven to terrorists, a charge Pakistan has bitterly denied.
Panetta "is oversimplifying some of the very complex issues we are dealing with in our efforts against extremism and terrorism," the Foreign Ministry said. "We strongly believe that such statements are misplaced and unhelpful in bringing about peace and stability in the region."
A senior U.S. official described the relationship as "the worst it has ever been."
"This is from Washington's point of view and from Pakistan's point of view, and even among the real well-wishers on both sides who are appalled and befuddled that we can't get past all of this and move beyond," said the official, speaking to the Associated Press on condition of anonymity.