Yemeni security forces clashed with militants on Saturday, leaving at least 34 people dead, while a U.S. drone strike killed two alleged militants, according to Yemeni officials.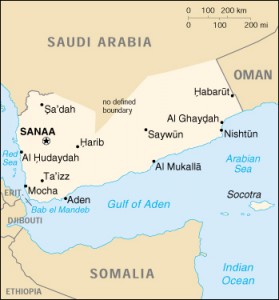 The officials say the drone attack took place in the central province of Bayda, killing one Somali and one Yemeni militant. Groups allegedly affiliated with al-Qaeda briefly overran parts of Bayda earlier this year, which apparently gives President Obama carte blanch to bomb it whenever he wants without informing the American people.
Further south in Abyan province, Yemeni troops fought with alleged al-Qaeda fighters, killing 12 soldiers and 22 militants. The U.S. has a number of American combat troops on the ground in Yemen, fighting on their own and alongside their Yemeni counterparts. It is unknown whether Americans were involved in Saturday's fighting.
The Obama administration has fiercely escalated the number of drone strikes launched in Yemen. Only 19 days into the month of May, and already the number could be higher than 20, by some estimates.