Meeting in Washington on Wednesday to discuss the Israeli-Palestinian issue, top officials from the United Nations, European Union, Russia and the U.S. criticized Israeli settlement activity, Jewish settler violence, and rocket attacks from Gaza.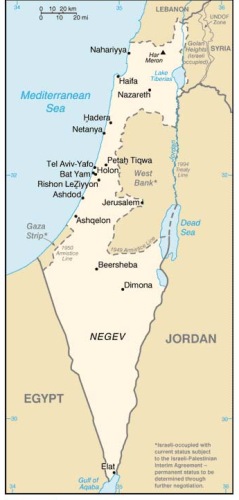 In a statement, the Quartet "expressed its concern over ongoing settler violence and incitement in the West Bank," calling on Israel "to take effective measures, including bringing the perpetrators of such acts to justice."
In addition, the statement said the Quartet was concerned "about unilateral and provocative actions by either party, including continued settlement activity, which cannot prejudge the outcome of negotiations, the only way to a just and durable solution to the conflict."
"The Quartet condemned rocket attacks from Gaza and stressed the need for calm and security for both peoples," the statement added, underscoring "the importance of continued steps to address the needs of Gaza's residents, and welcomed the Israeli Government's approval at the AHLC meeting of UN priority infrastructure projects in Gaza."
The statement is unsurprising – condemning violence and illegal activity is easy – but the spirit of the criticism will be outmatched by continued and unilateral U.S. support for Israeli policies which prolong and exacerbate the conflict with the Palestinians. Since 2008, Washington has sent Israel almost $14 billion, with another $3.1 billion slated for 2013.
Presumably recognizing the futility of more 'statements,' Palestinian representatives this week submitted letters to the United Nations urging the Security Council to formally condemn Israel's illegal settlement activity.
Building Jewish settlements in the Palestinian West Bank has been a critical issue and the primary cause of the suspension of negotiations. Such policies are illegal under international law, but Israel nevertheless has built up to 6,578 new settlements since 2008. In the process, to take just 2011, Israeli forces destroyed some 622 Palestinian homes, forcibly displacing over 1,100 people, over half of them children.
"The current policy and practice of demolitions cause extensive human suffering and should end," said UN humanitarian coordinator for the occupied Palestinian territories, Maxwell Gaylard, in January.