Yemeni authorities shut down the airport in Sanaa after militants loyal to Yemen's ousted president attacked it with anti-aircraft guns on Saturday, revealing a possible rift within the country's ruling factions.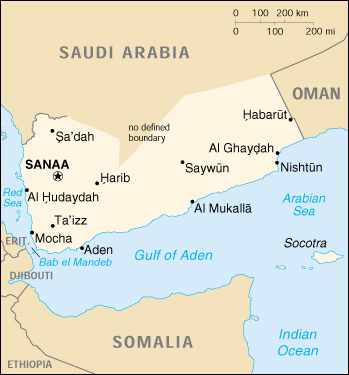 Armed tribesmen and troops in uniform opened fire with heavy weapons, destroying a tower before they surrounded and blockaded the airport in the capital Sanaa, officials said.
"The attack comes a day after Yemen's new President Abed Rabbo Mansour Hadi fired key security officials appointed by ex-president Ali Abdullah Saleh," reports the Washington Post, "including his half brother, the air force commander Mohammed Saleh al-Ahmar, and his nephew, Tariq, who headed the presidential guard."
With some pressure from his American backers, Hadi has promised to purge Saleh loyalists from his government. Hadi came to power after the Obama administration helped broker a political transition which gave Saleh immunity for crimes he committed while in office (and on the U.S. payroll). Some argue this immunity has allowed Saleh to continue exercising power behind the scenes.
Indeed, Yemeni Defense Minister Mohammed Nasser Ahmed told parliament on Thursday that "Saleh is still giving orders to governors and security officials using headquarters of his son, Ahmed — the commander of the powerful Republican Guards— as his operation room," reports the Post. Saleh's aim could be to stoke instability in order to regain power.
Meanwhile, U.S. involvement in Yemen is contributing to the country's instability. Support for the Hadi regime and an ongoing drone war is militarizing the conflict-ridden country and creating a greater security risk to Yemenis as well as American interests.