The authorities in Libya have rejected a request from the International Criminal Court to hand over Seif al-Islam, son of slain Libyan leader Muammar Gadhafi, insisting he be tried in Libya.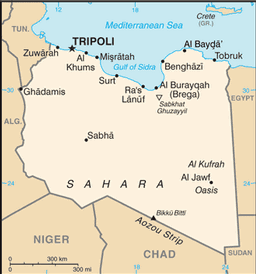 The ICC has of course condemned this, arguing Seif has a "right to effective representation" to defend himself against charges brought in a largely arbitrary, Western-influenced way. The Libyan authorities, the ICC says, cannot provide that effective representation.
This is true. The ICC defense official Xavier-Jean Keita said Libyan authorities have denied Seif basic rights, abused him, and kept him in isolation for 139 days except for contact with authorities and prosecutors. "Mr. Gadhafi has been physically attacked," Keita told AFP, and "suffers pain due to the absence of dental treatment," which he has been intentionally deprived of.
"He has been kept in a legal black hole," Keita said.
The situation is interesting. The inept, felonious government that NATO brought to power in Libya is battling the biased ICC who only decided to prosecute the Gadhafi family because it was the enemy-du-jour of the U.S.-led NATO coalition. It is an injustice of the West's own making.