Islamist militants on Saturday attacked a military checkpoint in southern Yemen, killing up to 28 Yemeni soldiers, according to officials and a statement from an al-Qaeda linked group.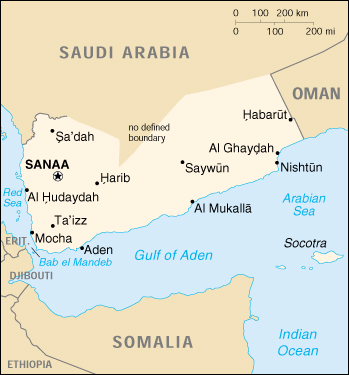 The militant group Ansar al-Sharia (Partisans of Islamic Law) claimed responsibility for Saturday's attack, in a text message purportedly from the group.
"The holy warriors of Ansar al-Sharia this morning carried out the raid of dignity on the al-Hurur military checkpoint in Abyan," read the message. Its authenticity could not immediately be verified.
Heavy fighting broke out at the checkpoint and Yemeni war planes eventually bombed the area, killing over a dozen militants and causing the rest to retreat.
Yemen remains very unstable after more than a year of social and political unrest, which led to a U.S.-backed transition deal to formally depose former president Ali Abdullah Saleh and elect his deputy Abdrabuh Mansur Hadi, who was the only name on the ballot. While its true that militancy is rampant in the country, media reports are often quick to assign blame for any violence on "al-Qaeda-linked militants," a narrative which is used to justify Washington's support for dictatorship and administration of a drone war.
The Obama administration has dramatically escalated its secret drone war in Yemen, already exploiting Yemen's fragile new client state., with 26 reported incidents of drone strikes in Yemen since May, but the pace appears to be accelerating with nine attacks so far this year and at least six this month. The drone strikes have killed many innocent people and fueled support for al-Qaeda in the Arabian Peninsula, all while supporting dictatorship in Yemen.