West African leaders neighboring Mali warned on Tuesday they would use "all options" to reverse the military coup that took place there last week, adding to the spiral of chaotic unintended consequences from the U.S.-led NATO war in Libya.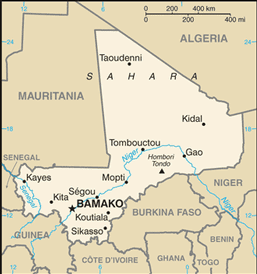 A group of West African heads of state plan to visit Mali in the next 48 hours in an attempt to reverse the coup and restore Mali's democratically elected government. And they are considering military action.
"Dialogue and conversation will be our primary instruments in the search for a solution but we shall not hesitate to use any other option dictated by circumstances," said Ivory Coast President Alassane Ouattara, speaking for the Economic Community of West African States (ECOWAS). Others on the delegation will include Nigeria's Goodluck Jonathan, Burkina Faso's Blaise Compaore, Liberia's Ellen Johnson-Sirleaf, Niger's Mahamadou Issoufou and Benin's Yayi Boni.
Rebel soldiers in Mali's army seized power last week, arrested President Amadou Toumani Toure and other officials, and are now trying to secure their power and fight a Tuareg insurgency in the north. The U.S. – through its involvement in the Libyan War, its military training of the Malian coup leader, etc. – was at least indirectly responsible for the coup.
The military coup in Mali was thought to be bad enough in the catalogue of repercussions resulting from the Western-backed regime change in Libya in recent months. But if the situation evolves into a regional war in West Africa, it will be the most egregious example yet of Washington's reckless interventionism.