When the pre-trial hearings for Guantanamo detainee Abd al Rahim al Nashiri reconvene next month, they are expected to be closed to the public in order to keep secret the brutal torture he suffered at the hands of the CIA.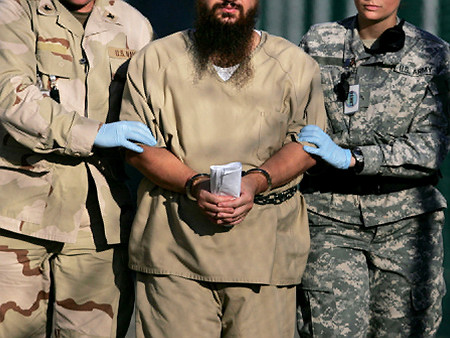 Nashiri is accused of planning the 2000 attack on the USS Cole and the Pentagon war court prosecutor is seeking the death penalty. U.S. government documents released in November revealed that, even if Nashiri is found not guilty, he may still be imprisoned for the rest of his life, or for "the duration of hostilities."
Nashiri's defense attorneys plan to call him as a witness in hearings next month to describe the Bush-era CIA interrogations in which he was subjected to torture. They're doing this as part of a bid to win a court order that Nashiri be unshackled during meetings with his attorneys. They say the treatment is affecting him psychologically and hindering his ability to work with his lawyers.
Declassified information has revealed that Nashiri was waterboarded, and threatened with a semi-automatic handgun and a power drill in 2002 and 2003. He was also shackled to the floor at secret CIA prisons for four years. Other techniques were used on Nashiri but have not been declassified.
This is why Nashiri's attorney's expect the war court judge, Army Col. James Pohl, to make the hearings closed to the public. Brutality and torture employed by the CIA must be kept from the public if it has not already been declassified, the thinking goes.
Under Obama administration war court rules, "prosecutors and judges — military or federal — do not have the discretion to declassify information," Army Brig. Gen. Mark Martins tells McClatchy. "We must interpret and apply the law to carry on the trial as transparently as possible but while also protecting these other interests." The interests, that is, of the government's torturers.
The Obama administration has tirelessly fought to keep secret the crimes of the Bush administration, particularly the systematic torture of post 9/11 detainees. To do this, a system of military trials has been codified for people like Nashiri, instead of a civilian trial which would afford him more rights. And finally, regardless of the final verdict in Nashiri's trial, the Obama administration has claimed the right to keep him in prison indefinitely.