The United States said on Monday it will suspend up to $70 million in aid to Mali after last week's coup, but that aid for food and humanitarian assistance would continue.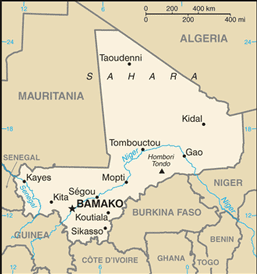 "We have now taken a decision to suspend our assistance to the government of Mali pending a resolution of the situation," State Department spokeswoman Victoria Nuland said. "We want to see the elected government restored as quickly as possible."
"We will continue … to provide humanitarian and food assistance to those displaced by the conflict in the north and those affected by the region's food crisis but the rest of our government-to-government assistance will be suspended," Nuland added.
Rebel soldiers in Mali's army seized power last week, arrested President Amadou Toumani Toure and other officials, and are now trying to secure their power and fight a Tuareg insurgency in the north. The U.S. – through its involvement in the Libyan War, its military training of the Malian coup leader, etc. – was at least indirectly responsible for the coup.
The State Department said the U.S. has not yet made a formal decision as to whether a military coup has taken place in Mali. Such a finding would require the Washington to cut off all aid. "We're still considering this a 'mutiny' with uncertain results," Nuland said.
The Obama administration took a similar position toward Honduras after the military coup there in 2009, declining to officially categorize it as a coup and continuing to send military and economic aid to the increasingly violent and corrupt regime. Now, Washington's ties to Honduras are strong as ever, as the U.S. tries to maintain dominance in Central America under the rubric of the war on drugs.