U.S. drone strikes killed at least 25 people allegedly linked to al Qaeda, while a Yemeni air force raid killed 20 more in the south, in the biggest airstrikes since Yemen's new ruler took over.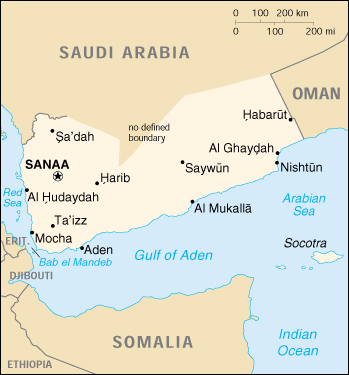 The death toll in the air force raid was disputed by a spokesman for the militant group  Ansar al-Sharia (Partisans of Islamic Law), who denied any of his fighters died. "There was nobody killed in the air strike," he told Reuters.
Separately, a source in the Yemeni government said the death toll from U.S. drone strikes launched of Friday had in Bayda, about 166 miles southeast of the capital Sanaa, had risen to 25.
In a separate incident, a government source said the number of militants killed in an air strike launched late on Friday in Bayda, about 267 km (166 miles) southeast of the capital Sanaa, had risen to 25. A local al Qaeda leader, Hadaar al-Homaiqani, is said to be among those killed.
"The bodies were recovered on Saturday morning after the cessation of the attacks carried out by U.S. drone airplanes, and the search for the remaining victims is still under way," one of the sources told Reuters.
The Obama administration has been launching drone strikes and killing many innocent people and fueling support for al-Qaeda in the Arabian Peninsula, all while supporting dictatorship in Yemen. Media reports typically repeat government sources saying only terrorists were killed, but civilians have been revealed as victims of these strikes many times in the past.