In the biggest popular protests in a year of turmoil, up to 100,000 people demonstrated in Bahrain demanding democratic reforms and an end to the U.S.-supported dictatorship.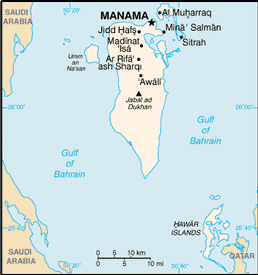 Protesters heading for the famous pearl roundabout in the center of the capital were met by security forces blocking the road and firing tear gas. Protesters threw rocks in retaliation.
The Bahraini government is a long-time U.S. ally receiving continued economic and military support from the Obama administration, despite an extended reign of repression in response to pro-democracy demonstrations. Bahrain is host to the U.S. Navy's major military base, the Fifth Fleet, which oversees the flow of oil through the Persian Gulf. The U.S. also uses the Bahraini dictatorship as a client state to check the influence of Iran, just to Bahrain's north.
Reform has not been forthcoming, thanks in part to the Obama administration, which has moved forward with a new package of arms sales to the regime after international pressure forced them to delay sending $53 million in weaponry. Using legal loopholes, Obama moved forward with the new sales without notifying the public.
A recent independent probe into the government's response concluded also that torture was systemic for hundreds of detained Bahrainis. On the anniversary of the uprisings last month, more than 120 protesters were wounded and hospitalized, in the harshest crackdown since martial law was temporarily established last year.
The Bahrain Youth Society for Human Rights claim to have documented 60 additional deaths over the past year. Rather than take protesters to police stations, security forces have been beating them on the spot or holding them for days in informal detention centers where they are severely beaten before release. Testimonies of victims have been collected and numerous people are reported to have died while in custody.
The case of Bahrain is one of the clearest cut examples of the dishonesty of the Obama administration, which claims to be on the side of the democratic uprisings throughout the Middle East. U.S. support remains assertive, on the side of dictatorship and repression.