More than 120 protesters have been wounded and hospitalized this week after Bahrain's security forces attacked them on the streets, as the Shiite opposition commemorated the one year anniversary of the uprisings.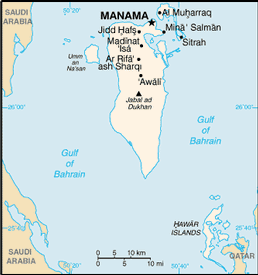 While the Obama administration quietly pushed through more arms sales to the dictatorship in Bahrain, security forces have been beating protesters severely or holding them for in informal detention centers where they are severely beaten before release. Testimonies of victims have been collected and numerous people are reported to have died while in custody.
Security forces conducted operations into the night this week in Bahrain, seizing 15 teenagers in a raid on one building after a police vehicle was damaged by a petrol bomb earlier, residents said. An unknown number of arrests took place this week.
On Wednesday, streets were deserted with residents hiding indoors as police jeeps sped through the streets in apparent search operations. They also utilized armored personnel carriers that have not been seen on Bahrain's streets since martial law last year.
"The heightened security presence at this time aims to spread security and reassure all citizens and residents… Expressing opinion must be within the space allowed by the law," Interior Minister Sheikh Rashid bin Abdullah Al Khalifa said in comments on the ministry's website.
But the crackdown has been severe. "There were over 100 cases on Tuesday and 37 of them are bad, with head injuries and fractures," said one medic. "On Monday we had 20 people (wounded) in villages around the country."
The Bahraini government is a long-time U.S. ally receiving continued economic and military support from the Obama administration, despite an extended reign of repression in response to pro-democracy demonstrations. A recent independent probe into the government's response concluded also that torture was systemic for hundreds of detained Bahrainis.
The Obama administration has quietly moved forward with a new package of arms sales to the regime in Bahrain, after international pressure forced them to delay its planned $53 million arms sale. Using legal loopholes, they moved forward with the new sales without notifying the public.