Pakistan dismissed renewed accusations that elements of the Pakistani government are aiding the insurgency in Afghanistan, claims made in a leaked "highly classified" U.S. military report on the war.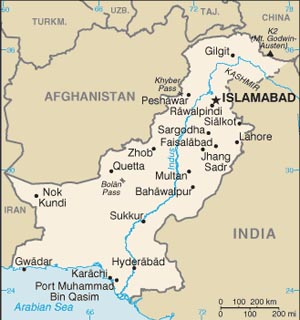 "It seems to be a report that is detached from reality," said Foreign Ministry spokesman Abdul Basit. "Pakistan's commitment to end the insurgency along the Pak-Afghan border has been very strong over the years and we had to pay a very high price for that. Thousands of our soldiers and civilians have lost their lives in the fight against militancy."
The leaked document was reported to have been based on interviews with some 4,000 detainees at Bagram airbase, allegedly members of the Taliban or al-Qaeda as well as civilians. Bagram is well known as a Guantánamo-like base for U.S. forces in Afghanistan. 
The document says that the Taliban is set to retake control of Afghanistan once NATO withdraws, and that it will have the help of Pakistan. It also claims that Pakistan's intelligence agency ISI knows the locations of senior Taliban commanders.
"Senior Taliban leaders meet regularly with ISI personnel, who advise on strategy and relay any pertinent concerns of the government of Pakistan," reports said.
As Pakistani officials were out denying any ties with Afghan insurgents and Taliban leaders, Pakistani warplanes bombarded militant hideouts in the northwestern tribal area of Peshawar early Wednesday morning, killing at least 20 Taliban insurgents, according to Pakistani officials.
Pakistan has a history of both supporting Taliban militants and killing swathes of them when it suits their interests, either by themselves or in coordination with the U.S. This has been difficult for U.S. officials to publicly protest, since Washington has been supporting its own band of terrorists in Afghanistan and since bribes to the Pakistani government allow them to conduct their own terrorism through a drone war in the tribal areas.