A Shi'ite militia that fought U.S. troops in Iraq said Tuesday it will not lay down its arms immediately due to concerns about the remaining American presence and an unstable Iraqi government.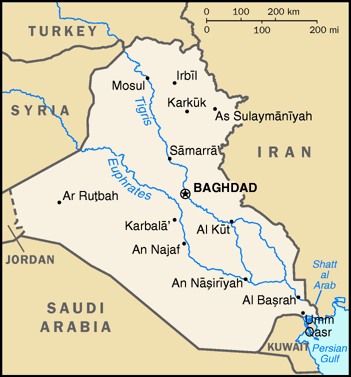 The U.S. has approximately 17,000 personnel based at its embassy in Baghdad, notoriously referred to as the size of the Vatican, and about 5,000 private mercenaries providing security for them. Since the official withdrawal of U.S. occupation forces in December, new sectarian tensions have arisen as Shi'ite Prime Minister Nouri al-Maliki has tried to usurp dictatorial power and marginalize Sunni authorities.
Abu Mustafa al-Khazali, one of the commanders of Shi'ite militia Kata'ib Hizballah, spoke recently at a ceremony marking the U.S. withdrawal as a victory of the Iraqi resistance, but noted ongoing concerns. "Challenges still exist, and real clarity is still missing on the number of individuals at the U.S. embassy. Risks still exist and the political process is unstable," Khazali said.
The ongoing U.S. presence in Iraq has been described by the State Department as necessary to provide "situational awareness around the country, manage political crises in potential hotspots such as Kirkuk, and provide a platform for delivering economic, development and security assistance." According to a recent Quarterly Report of the Special Inspector General for Iraq, responsibilities also include carrying out "two of the largest Foreign Military Sales (FMS) and Foreign Military Financing (FMF) programs in the world and to spend the $2.55 billion in Iraq Security Forces Fund (ISFF)."
The Obama administration also recently secured the sale of nearly $11 billion worth of arms and training for the Iraqi military, despite Maliki's troubling turn towards sectarianism and dictatorship. He has circumvented Parliament, consolidated illegitimate power in a long trend of quasi-dictatorial behavior, harshly cracked down on peaceful activism, harassed and even attacked journalists that were critical of his regime, and has been accused of torturing prisoners in secret Iraqi jails.
Just last month, Iraq's Deputy Prime Minister Saleh al-Mutlaq warned in a CNN interview that Maliki is "going towards dictatorship." Less than a week later Maliki ordered Iraq's Sunni Vice President Tareq al Hashemi detained on trumped up terrorism charges, in a broader plan to marginalize Sunni authorities in government.
These issues aren't sitting well with an Iraqi public still suffering from the war of aggression launched by the U.S. which killed hundreds of thousands of Iraq civilians. This helps explain the refusal of some, but not all, of Iraq's militias to disarm. And judging by some U.S. sources, they are right to be skeptical. In a diplomatic cable released by WikiLeaks, U.S. envoy Ryan Crocker noted in 2009 that Maliki's turn towards more centralized rule is "in U.S. interest."