Eritrea did not send weapons to the Somali militant group al-Shabab late last year, a preliminary U.N. report has found after months of diplomatic outbursts and sanctions against the country.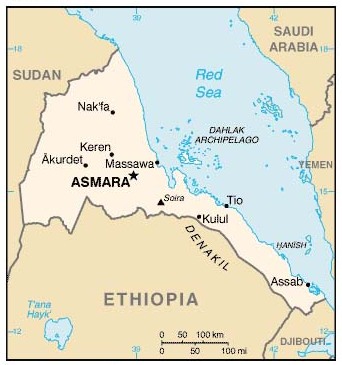 Some, including Kenya and its ally, the United States, accused Eritrea in November of delivering arms to al Shabab, an Islamic militant group battling a U.S. drone war, proxy war, and a host of foreign African fighters backed by the U.S.
Despite denials from Eritrea, the accusations led the United Nations Security Council to impose new sanctions on Eritrea in December. The resolution passed with 13 votes in favor of expanding sanctions imposed on Eritrea two years ago, while Eritrean President Isaias Afwerki's government accused the Security Council of doing America's bidding.
The U.S. is running CIA blacksites as prisons in Somalia and supporting thuggish militias to fight al-Shabab, all while conducting covert kill/capture raids with Joint Special Operations Command forces. The U.S.-supported regimes of Kenya, Uganda, Burundi, and others are joining the fight against the Somali militants as Predator and Reaper drones unleash airstrikes launched from bases in Ethiopia, Djibouti, and Seychelles.
The Obama administration has garnered support for aggression against Somalia's Shabab from most of the neighboring countries, with the exception of Eritrea, putting extra significance on its already strategic location. In 2009, the U.S. threatened Eritrea over its alleged support of the group, warning it could face "the same fate as Taliban-controlled Afghanistan in the wake of the September 11 attacks."