Libya's National Transitional Council (NTC) hosted a visit from Sudanese mass murderer President Omar al-Bashir on Monday, despite U.S. objections.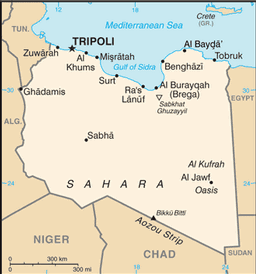 "The Libyan government knows our view that we oppose invitations, facilitation or support for travel by President Bashir because he is the subject of an ICC (International Criminal Court) arrest warrant," State Department spokeswoman Victoria Nuland said.
After months of official U.S. claims that Libya's rebel fighters and ruling NTC are bringing freedom and democracy to the country, the friendly visit by Bashir, who is wanted by the ICC on charges of genocide, war crimes and crimes against humanity in Darfur, is embarrassing for the U.S. government.
After fighting a war and ravaging parts of Libya in order to bring the current leadership to power, the U.S. is trying to avoid talk, not only of the Bashir visit, but also of a growing al Qaeda presence in the country.
Indeed, shortly after the end of the U.S. bombing campaign, an al Qaeda flag was seen flying over the Libyan city of Benghazi. In November, members of al Qaeda in the Islamic Maghreb (AQIM) termed themselves the "main beneficiaries" of the war. U.S. officials have voiced growing concern over the issue in recent weeks.
As with most lauded U.S. military crusades, the U.S. war in Libya has not resulted in the democratic paradise predicted by advocates of the war. Libyan fighters have been engaged in tribal and territorial fighting and continue to destabilize the country, all while the interim government hosts genocidal tyrants and bourgeoning al Qaeda cells.