Opposition groups in Bahrain have joined together to urge the government to engage in a "serious" dialogue for substantive democratic reform, condemning the violent attacks on civilian protesters which have again sprung up in recent days.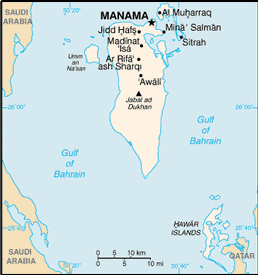 In a statement released Sunday five opposition groups said the Sunni-led authoritarian regime needs to embark on political reforms in order to ease the tension, protests, and repression that have become the norm since an pro-democracy uprising broke out in March.
The statement said these oppositions groups, led by the main Shiite party Al-Wefaq, support "implementing drastic and comprehensive political and constitutional reforms" and dismissed King Hamad's empty call for a "national dialogue," which they claimed excluded the opposition.
U.S. President Barack Obama used King Hamad's pledge for a national dialogue and reform as good enough to continue on supporting the dictatorship with money and weapons, but the Bahraini opposition saw through it. "It is not acceptable to talk about the outcome of the so-called 'national dialogue' as a suitable foundation for the wanted reforms because it is void of any real constitutional and political reforms" the statement said.
Renewed protests again broke out in Bahrain's capital, Manama, after the regime promised reforms following the publication last month of an independent investigation into government abuses during protests in February and March. That report found that torture was systemic and security forces used excessive force, but no reform came of it.
Bahraini security forces again used violence against peaceful protesters on Sunday, beating people with batons and firing teargas into crowds. "We strongly condemn the campaign of collective oppression and terrorism practised by security forces against peaceful demonstrators," the opposition's statement said.
U.S. support for the dictatorship in Bahrain has continued unabated throughout their harsh repression in the latest months. International pressure forced the Obama administration to suspend a new shipment of military equipment to Bahrain worth $53 million, but officials have indicated they are still mulling over whether or not to send it.
U.S. aid to Bahrain for fiscal year 2012 amounts to $26.2 million, which will make the total amount of aid since 2008 over $78 million.