Mexican soldiers exchanged gunfire with suspected drug cartel members just south of the Texas border on Saturday, ending in the death of 11 gunmen and one injured soldier.
According to the U.S. Department of Defense, the gunfight began when Mexican soldiers on patrol were shot at from a building in the city of Valle Hermoso, about 30 miles from the Texas border.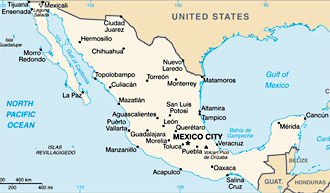 Mexican soldiers later seized the building, where they found 11 people dead and 73 rifles inside. Two suspects at the scene were arrested.
On Sunday in the nearby town of Veracruz, unidentified assailants also suspected of ties to drug gangs threw a bomb into a building where a cockfight was being held, killing one man and wounding nine others.
On Monday, a judge sentenced five former Mexican soldiers to 25 years in prison for having ties to the cartels. The five high-ranking soldiers were convicted of organized crime and assisting in drug trafficking in Sinaloa, the locale and name of one of Mexico's most notorious gangs.
The recent events are an indication of escalating violence in Mexico's war on drugs. The drug cartels have been engaging in spectacular cruelty, placing dead and mutilated bodies in public places to increase fear. Meanwhile, Mexico is facing heavy U.S. pressure to continue a hyper-militarized approach to the drug war, which has resulted a dramatic increase in corruption and human rights abuses on the part of Mexican security forces.
Human Rights Watch recently released a report showing that Mexico's security forces participated in "more than 170 cases of torture, 39 'disappearances,' and 24 extrajudicial killings since Calderón took office in December 2006."
"Instead of reducing violence, Mexico's 'war on drugs' has resulted in a dramatic increase in killings, torture, and other appalling abuses by security forces, which only make the climate of lawlessness and fear worse in many parts of the country," said José Miguel Vivanco of Human Rights Watch.
Meanwhile, the presidents of the Latin American countries attending the eighth summit meeting of the Tuxtla System for Dialogue last week approved a formal request to the United States which included suggestions of market alternatives to the current militarized approach.
The declaration urged the U.S. "to explore the possible alternatives to eliminate the exorbinant profits of the criminals, including regulatory or market oriented options to this end. Thus, the transit of substances that continue provoking high levels of crime and violence in Latin American and Caribbean nations will be avoided." It also included a demand that the U.S. stop the transit of arms to the criminals which only provokes more death and violence.
The U.S. has spurned previous such requests from their so-called allies south of the border, and policy is firmly entrenched in the guns and butter approach to drugs. A succession of failures has yet to change the preferred options in the U.S.