The United Nations Security Council imposed new sanctions on Eritrea on Monday for allegedly supporting Islamists militants, prompting an angry reaction from the government.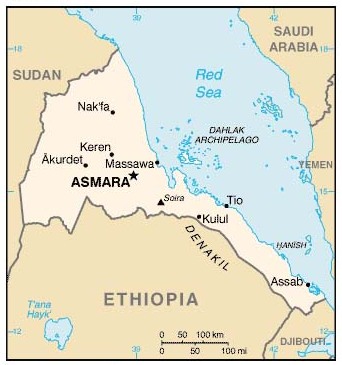 "The resolution is another injustice on the Eritrean people and will heighten tensions and stoke an already explosive situation in the Horn of Africa," said a statement from the Eritrean Foreign Ministry.
The Council passed the resolution with 13 votes in favor of expanding sanctions imposed on Eritrea two years ago, with abstentions from China and Russia. Eritrean President Isaias Afwerki's government accused the Security Council of doing America's bidding.
In Ethiopia's U.S.-backed invasion of Somalia in 2006, Eritrea backed the target of that invasion, the Islamic Courts Union and has since allegedly maintained ties with the militant group now in America's crosshairs, al Shabaab.
In 2009, the U.S. threatened Eritrea over this alleged support of al Shabaab, warning it could face "the same fate as Taliban-controlled Afghanistan in the wake of the September 11 attacks." The Obama administration has garnered support for aggression against Somalia's al Shabaab from most of the neighboring countries, with the exception of Eritrea, putting extra significance on its already strategic location.