Yemeni troops killed seven alleged al Qaeda-linked militants – including an Iranian, a Pakistani and two Somali nationals – in fighting in a southern province, an anonymous security official said Wednesday.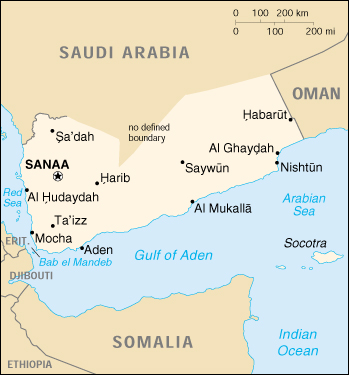 The official claimed the seven were killed when the Yemeni army shelled the headquarters of the local government in Zinjibar, provincial capital of Abyan. The province has been a hotbed of anti-Saleh militants since May.
The actual identities of the deceased were, as usual, not disclosed. Anonymous reports of dead al Qaeda militants have flooded out of Yemen in the last few months, as embattled Yemeni President Ali Abdullah Saleh seeks make clear to the West his role as a check on the influence of extremist elements in Yemen.
In recent weeks, Saleh has made perfunctory statements about stepping down from power in accord with a U.S. supported transition plan from the Gulf  Cooperation Council (GCC), which would give Saleh immunity.
Much of Yemen has become embroiled in an outright civil war as the Saleh regime violently attempts to crush an anti-regime protest movement which has been accompanied by violent tribal conflicts. Death counts are not readily available given how dangerous the security situation is, but over 100,000 Yemeni residents have fled Abyan province to find refuge in the nearby port city of Aden.
The United States continues to support the Yemeni military in the south and to carry out its own military strikes against militants there, especially with drone attacks.