Libya's interim government has vowed to prosecute anyone found responsible for the death of Muammar Gadhafi, in a sharp break with earlier denials that he was executed.
The National Transitional Council initially lied about the circumstances of Gadhafi's death, claiming after inspecting the body that he was shot in the crossfire of gun battles in Sirte. But amateur videos from cell phones of the group of rebel fighters that captured the former dictator have confirmed Gadhafi was caught alive and unharmed.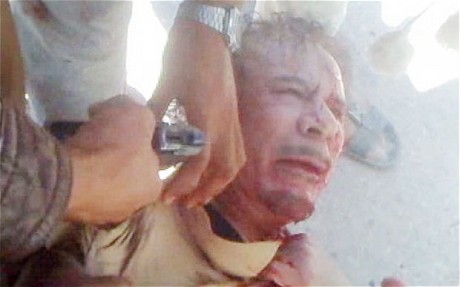 The videos show the NTC fighters dragging Gadhafi around, punching and kicking him in the head and body, and eventually executing him with a shot to the head and abdomen. Some have alleged he was sodomized with a combat knife during the beatings.
Abdel Hafiz Ghoga, deputy chief of the NTC, said the individual who shot Gadhafi in the head will be found and brought to justice, but seemed to deny that it had been an intended act by the NTC fighters. "We had already launched an investigation," he said in an interview. "We have issued a code of ethics in handling of prisoners of war. I am sure that was an individual act and not an act of revolutionaries or the national army. Whoever is responsible for that [Gaddafi's killing] will be judged and given a fair trial."
The man who fired the shots that killed Gadhafi is well known in Misrata, where the NTC fighters who caught Gadhafi are from. But his name has not been released to the public. There has, however, been a video released of the shooter admitting to his act. "We grabbed him. I hit him in the face. Some fighters wanted to take him away and that's when I shot him, twice: in the face and in the chest," he said before holding up what he claimed was Gaddafi's bloodstained shirt and gold ring.
The news that the NTC leadership will actually hold murderers accountable is meeting disdainful responses in Misrata. "They won't come near us," said the rebel who pulled Gaddafi from a drain last Thursday. "They won't dare. Gaddafi was saying: 'What's this, what's this?' After nine months of blood, he was saying: 'What's this?'. What does he expect?"
(photo via Reuters)