The US has finalized the sale of $53 million worth of weapons and military equipment to the dictatorship in Bahrain, despite months of widespread human rights abuses against peaceful protesters.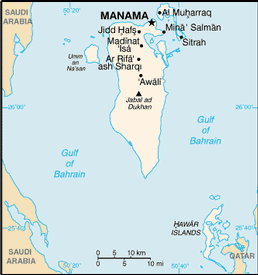 Last month, the Department of Defense notified Congress of a deal to send armored vehicles, high-tech TOW and bunker buster missiles, anti-tank rocket launchers, and tens of millions of dollars of spare parts and military communications equipment. Federal law requires that Congress receive advance notice of most proposed arms sales, but the period to disapprove passed without a single formal objection from any member of Congress.
The Pentagon has long cut deals with Bahrain in weaponry, recently sending dozens of American tanks, armored personnel carriers, helicopter gunships, thousands of .38 caliber pistols and millions of rounds of ammunition, from .50 caliber rounds used in sniper rifles and machine guns to bullets for handguns.
Stephen Seche, the deputy assistant secretary of state for Arabian Peninsula affairs, claimed the new weapons would be used only "for the external defense of Bahrain." But such equipment has undoubtedly been used against Bahraini civilians, most notably when security forces opened fire with live rounds on marching protesters back in February.
The Sunni monarchy in Bahrain has committed serious crimes against the majority Shiite protesters, including harsh violence on civilians, mass detentions, torturing prisoners, targeting medical professionals for treating injured protesters, cracking down on freedom of the press, and more.
Despite these abuses and the legitimate grievances of the pro-democracy demonstrators, the Obama administration's support for the Bahraini dictatorship remains assertive, with over $92 million in aid since Obama's inauguration and another $26.2 million slated for next year.
The Bahraini government established a commission in June to investigate claims of torture and other abuses and it is scheduled to report its findings later this month. US officials have said they look forward to its release.