Israeli forces demolished for the third time a mosque in a remote Bedouin village in the northeast of the West Bank on Tuesday.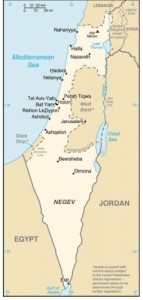 The mosque and its surroundings had been previously razed by Israeli forces last February and before that in November 2010. In a statement released Tuesday, the Israeli military said it had destroyed the mosque "because it was built without permission in an area that is used for army training."
The mosque is located in the village of Khirbet Yarza, in Area C of the West Bank, which is under full Israeli control and where all construction and planning issues must get the permission of the Israeli Civil Administration. In these areas, it is "virtually impossible for a Palestinian to obtain a permit for construction, while Israeli settlements receive preferential treatment in the allocation of water and land, and approval of development plans," UNRWA spokesman Chris Gunness has said.
Israeli demolition of Palestinian homes and construction of new Israeli settlements in the West Bank has risen dramatically in 2011, actions fully supported by the Obama administration.
In recent months, an especially after the Palestinian Authority's bid of statehood at the United Nations, attacks on West Bank Palestinians by Israeli settlers have increased significantly and Israeli Defense Forces are quick to use excessive force against Palestinians, including recent killings, detentions, and beatings.